How It Works
A Friendly Game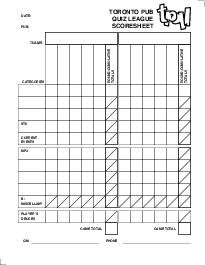 To play in the Quiz League, you need a team of five players, plus a couple of substitutes, and a quizmaster. Your team must make a committment for each and every Monday evening. Since you have substitutes, individual members may take the evening off.
There are ten rounds of questions. Each round consists of ten questions, one for each player. Each player who can answer their own question scores two points for their team. If the player cannot answer correctly, the team gets a crack at it for one point. The team has one minute to come up with an answer.
Each game has a current events round, a music round, a stinker round with difficult questions, and a miscellany round. The remaining rounds can be just about anything — TV, history, literature, hobbies...
We have bonus rounds. If the first team cannot answer, the opposing team gets five seconds. If they get the "steal", they get a point!
Each season is around twelve games, played each Monday at a convenient pub. If you don't make the semi-finals, you still get to play a "friendly" game. The finals are held at the biggest, nicest bar we can find.
Do you want to play? Get in touch with us at TPQL Admin